MARK CARROLL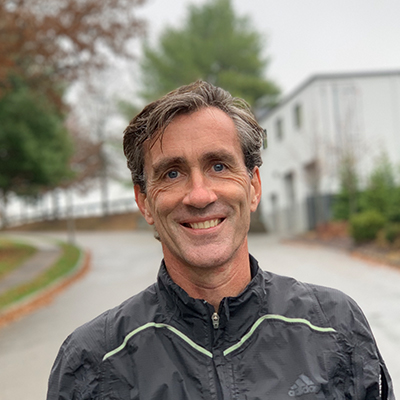 Head Coach of the B.A.A. High Performance Team
College: Providence College
Hometown: Cork, Ireland
Top Honors 
Two-time Olympian for Ireland (2000 and 2004)
Irish national record holder at distances from the 3,000 meters to 10,000 meters.
European Champion in the 3,000 meters indoors (2000) and bronze medalist at 1998 European Championships in the 5,000 meters
Represented Ireland at the World Championships six times
Six-time All-American and NCAA national champion at 5000m indoors while competing at Providence College.
Coach of the Irish Olympic distance runners at the 2012 London Olympics and the 2010 European Championships in Spain.
Former Director of Track & Field and Cross Country at Drake University
Former Head Cross Country Coach at Auburn University, where he led the Tigers to four All-American finishes and six Southeastern Conference titles.
Personal Bests 
1500 (Outdoors): 3:34.91 (2000)
1500 (Indoors): 3:36.96 (2000)
Mile (Outdoors): 3:50.62 (2000)
Mile (Indoors): 3:54.5 (2001)
3000 (Outdoors): 7:30.36 (1999)
3000 (Indoors): 7:44.73 (1999)
5000 (Outdoors): 13:03.93 (1998)
5000 (Indoors): 13:31.93 (1999)
10,000m (Outdoors): 27:46.82 (2000)
5K Road: 13:58 (2009)
10K Road: 28:30 (2006)
Half Marathon: 1:02:36 (2005)
Marathon: 2:10:54 (2002)
SCOTT CODY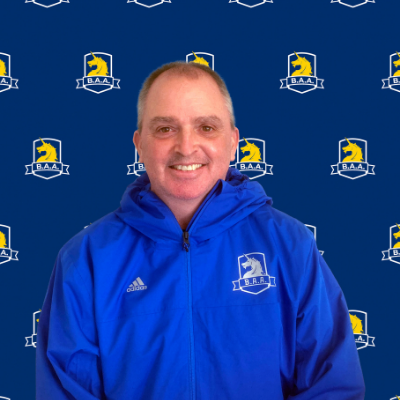 Coach of the B.A.A. Running Club
College: Providence College
Experience
More than 25 years of coaching experience at Cambridge Rindge and Latin High School and Cambridge Running Club
Top Honors
2 time captain and all-Big East selection at Providence College
Massachusetts State Champion at Cambridge Rindge and Latin
USATF-NE titles in the 5k, 10-mile, and half marathon
Personal Bests:
Mile: 4:04
3000m: 8:06
5000m: 14:01
5-Mile: 23:52
Half-Marathon: 1:06:48
SARAH DUPRÉ HEALY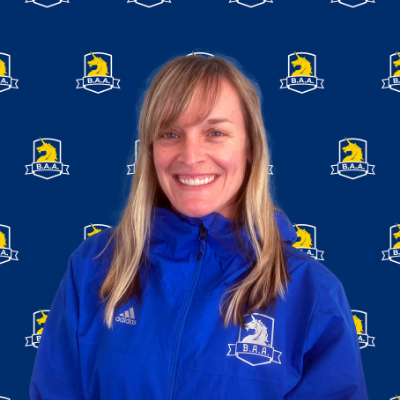 Coach of the B.A.A. Running Club
College: Providence College
Hometown: Kingston, Ontario, Canada
Top Honors 
4 time NCAA All-American in track and cross-country
2 time Big East Conference Champion
1998-1999 Providence College Athlete of the Year
Member of 1995 NCAA Cross-Country Championship winning team (inducted into Providence College Athletic Hall of Fame)
Member of 6 National Cross-Country teams that competed at the World Cross-Country Championships, 2 National Road-Racing teams, and 1 National Track team in Canada
Personal Bests 
1500m: 4:19.89 (2003)
3000m (Indoors): 9:13.06 (2003)
5000m: 15:40.12 (2000)
10,000m: 32:52.86 (2004)
10K (Roads): 33:49 (2002)
20K (Roads): 1:11:41 (2004)
Marathon: 2:48:03 (2004)
MORGAN UCENY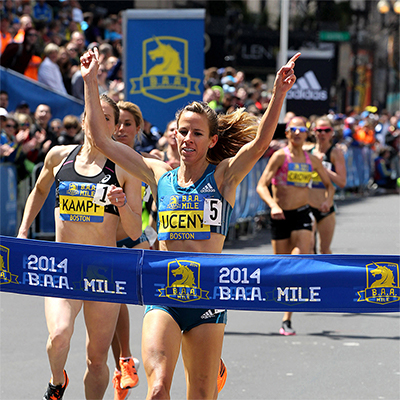 Assistant Coach & Strength and Conditioning Coach of the B.A.A. High Performance Team
College: Cornell University
Hometown: Plymouth, Indiana
Top Honors 
2012 Olympian for Team USA at 1500 meters
Ranked No. 1 in the world at 1500m in 2011 by Track & Field News (first American to be ranked No. 1 since 1985)
3-time USATF National Champion at 1500m (2010 indoors, 2011 and 2012 outdoors)
2012 Olympic Trials Champion at 1500m
10th place finish at the 2011 IAAF World Championships 1500m
2011 Diamond League winner in the 1500m
Represented Team USA at the 2007 Pan-Am Games and the 2011 World Championships
3-time B.A.A. Invitational Mile champion (2010, 2012, 2014)
4-time NCAA All-American and 10-time Ivy League Heps Champion while at Cornell University
Personal Bests 
800m (Outdoors): 1:58.37 (2011)
800m (Indoors): 1:59.97 (2011)
1000m (Outdoors): 2:37.61 (2013)
1000m (Indoors): 2:38.44 (2012)
1500m (Outdoors): 4:00.06 (2011)
1500m (Indoors): 4:05.35 (2011)
Mile (Outdoors): 4:29.61 (2014)
Mile (Indoors): 4:27.99 (2011)
Mile (Roads): 4:22 (2014)
3000 (Indoors): 9:04.87 (2016)
5K (Roads): 15:52 (2015)