ELAINA TABB
College: William and Mary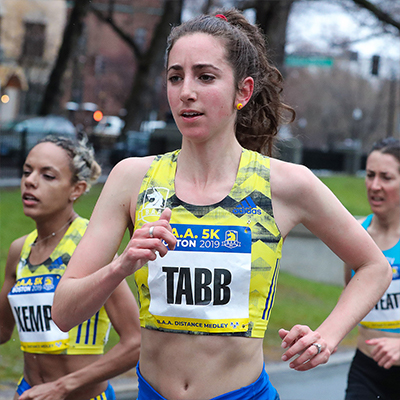 Hometown: Allison Park, PA
Top Honors 
4th at Pan American Games 10,000m (2019) 
9th at USATF Outdoor Track and Field Championships 10,000m (2019) 
11th at USATF Cross Country Championships (2019) 
64th at IAAF World Half Marathon Championships (2018) 
8th at Falmouth Road Race (2016) 
6th at Portland Track Festival 10,000m (2016) 
9th at adidas Boost Boston Games 5000m (2016) 
12th at USATF Indoor Championships 3000m (2016) 
6th at USATF Cross Country National Championships (2015) 
64th at IAAF World Cross Country Championships (2015) 
7th at USATF 5K Championships (2015) 
13th at USATF Outdoor Championships 10,000m (2015) 
5th at USATF 12K National Championships (2014) 
15th at CVS Downtown 5K/USA 5K National Championships (2014) 
14th at Tufts 10K for Women (2014) 
13th at Falmouth Road Race (2014) 
2nd at New England Cross Country Championships (2014) 
7th at Mayor's Cup Cross Country (2014) 
5th at 2014 NCAA Outdoor Track & Field Championships, 10,000m (2014) 
NCAA Cross Country All-American in 2012 and 2013 
NCAA Track & Field 1st Team All-American 2014; 2nd Team All-American (2014, 2013); Honorable Mention All-American (2012) 
Colonial Athletic Association Cross Country Athlete of the Year (2012, 2013) 
Colonial Athletic Association Track & Field Athlete of the Year (2013) 
Personal Bests 
3000m: 9:01.10 (2017) 
3000m (Indoors): 9:09.18 (2016) 
5000m: 15:27.89 (2020) 
5K Road: 15:38 (2019) 
10K: 32:40 (2014) 
5000m: 15:32.49 (2017) 
5000m (Indoors): 15:46.92 (2014) 
10,000m: 31:45.27 (2020) 
Half Marathon: 1:10:44 (2019)
Get to Know Elaina
Fun Fact: I've repped Team USA on every continent except Antartica and Australia!
Favorite Distance to Run: My favorite distance to run is the 10k, especially on the roads.
Favorite Running Route around Boston: I love trail running so my favorite spot is the plethora of trails near Walden Pond.
Connect with Elaina on social media!
Instagram: @elainatabb
Twitter: @ElainaTabb