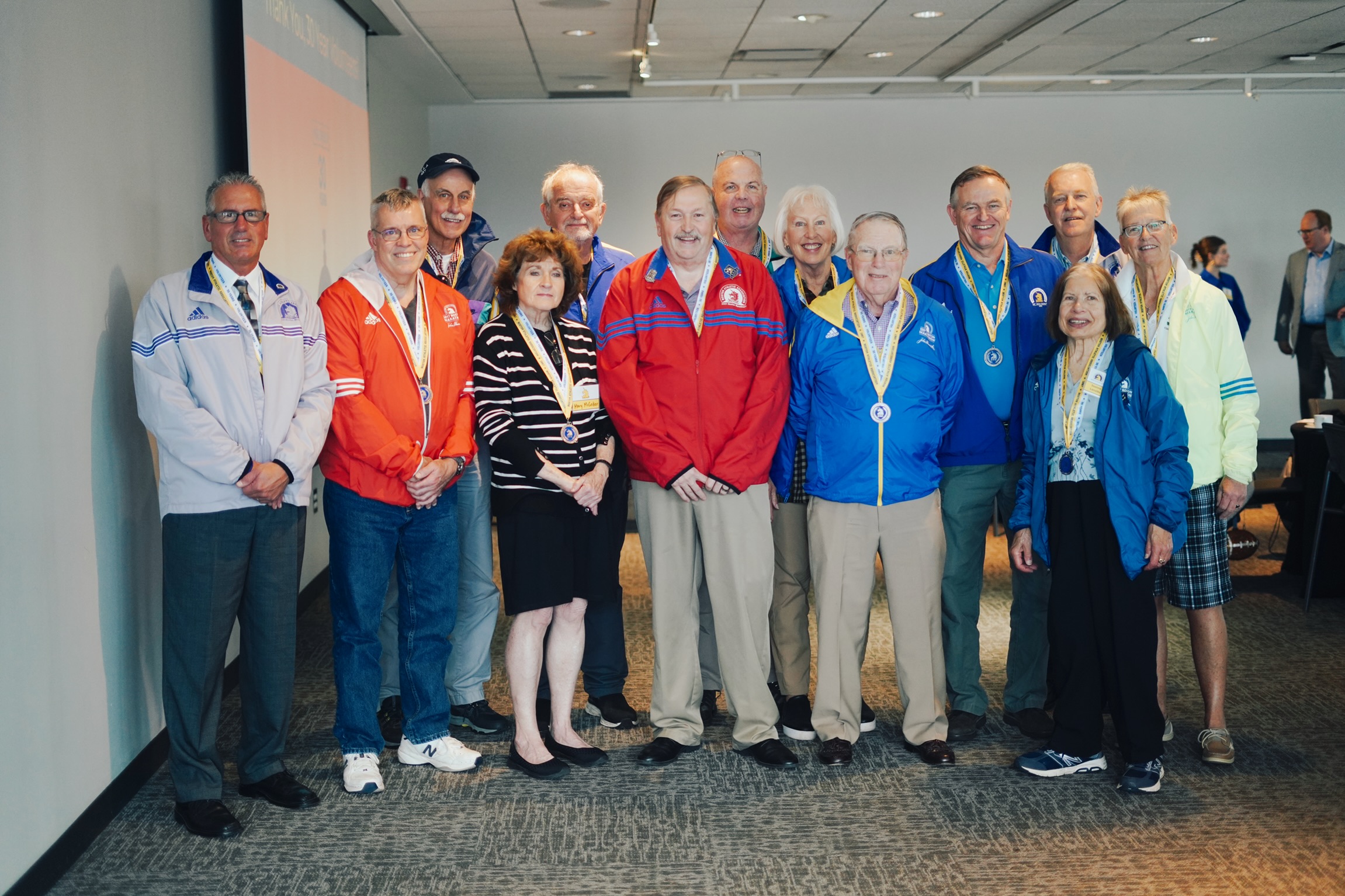 The B.A.A. honored 16 volunteers for their three decades of dedication to the Boston Marathon
Boston, Mass. (Friday 27 Oct) – The Boston Athletic Association (B.A.A.) honored 16 long-serving volunteers for their 30 years of service at the Boston Marathon at the Museum of Science, Boston today. 
These individuals have given their time, energy and support to the marathon and many other B.A.A. events over the last three decades, taking on a host of roles and doing so with pride, dedication and the enthusiasm that the participants have come to expect and respect over the years. 
During the luncheon the volunteers were presented with a special medal for their service and had a chance to connect with each other and members of the B.A.A. staff.
Alaina Belanger, Senior Manager, Community Programs and Events for the B.A.A. addressed the group saying, "Thirty years of volunteering is a remarkable milestone. You all have witnessed the race evolve, seen records broken, and celebrated countless moments of triumph and unity. You've braved the unpredictable New England weather, cheered on thousands of participants, and lent a helping hand when needed the most. You have become an integral part of the Boston Marathon's history."
B.A.A. President and CEO, Jack Fleming added, "You are the heart and soul of the Boston Marathon. We thank you for your service, your passion for what we do and the wonderful experience you provide our participants every year."
More than 9,000 volunteers support the Boston Marathon every year working in all areas including packet stuffing, medical, professional athletes, start line, finish line and everything in between.
 A few of the recipients shared their thoughts on their experiences with the B.A.A. so far [none of them are planning to stop any time soon].
John Dalone, "After running as a bandit in 1992, I loved the marathon. I was treated with such respect, and it was then that I decided I wanted to volunteer. It's been a little piece of Americana that I enjoy and look forward to every year. Seeing people for seven hours on this one day and coming back and seeing them again is very special."

Catherine Fraser, "This experience has meant so much because it involves friends, family and over the last 15 years I was able to do it with my dad who did it until he was 95. He passed away this June and he absolutely loved it. Everyone is so nice; I just love it. We've got another thirty years to go!"
Joanne Lanzillo, "A colleague got me into this as I used to volunteer for a lot of other events, and he thought I'd like it. He's now my team captain and I love it. I've had some great jobs – I used to be in the professional athlete hotel and now I am at the photo bridge so I see a lot of the day and all the finishers. It's very emotional and even though it's a long day and we've had some bad weather, it's definitely worth it. It's something I look forward to every year, I really do." 
Kenneth Fitzpatrick, "This is fun. I enjoy it and that's why I keep coming back every year. It's like a yearly pilgrimage, helping the runners through their personal achievement, and making sure they get home safe and leave the race in pretty much the same condition they came in." 
2023 B.A.A. 30-years of service volunteers
John Dalone
Alice Daily
Kenneth Fitzpatrick
Catherine Fraser
Fred Keuthen
Joanne Lanzillo
Ralph Lapinskas
Mary McCusker
James Miccio
Martin Monteiro
Roger Morrison
Nancy Pickup
Timothy Ryan
Ron Sargent
David Sheehan
Neil Svendsen

Find out more about the B.A.A. Volunteer Program HERE.