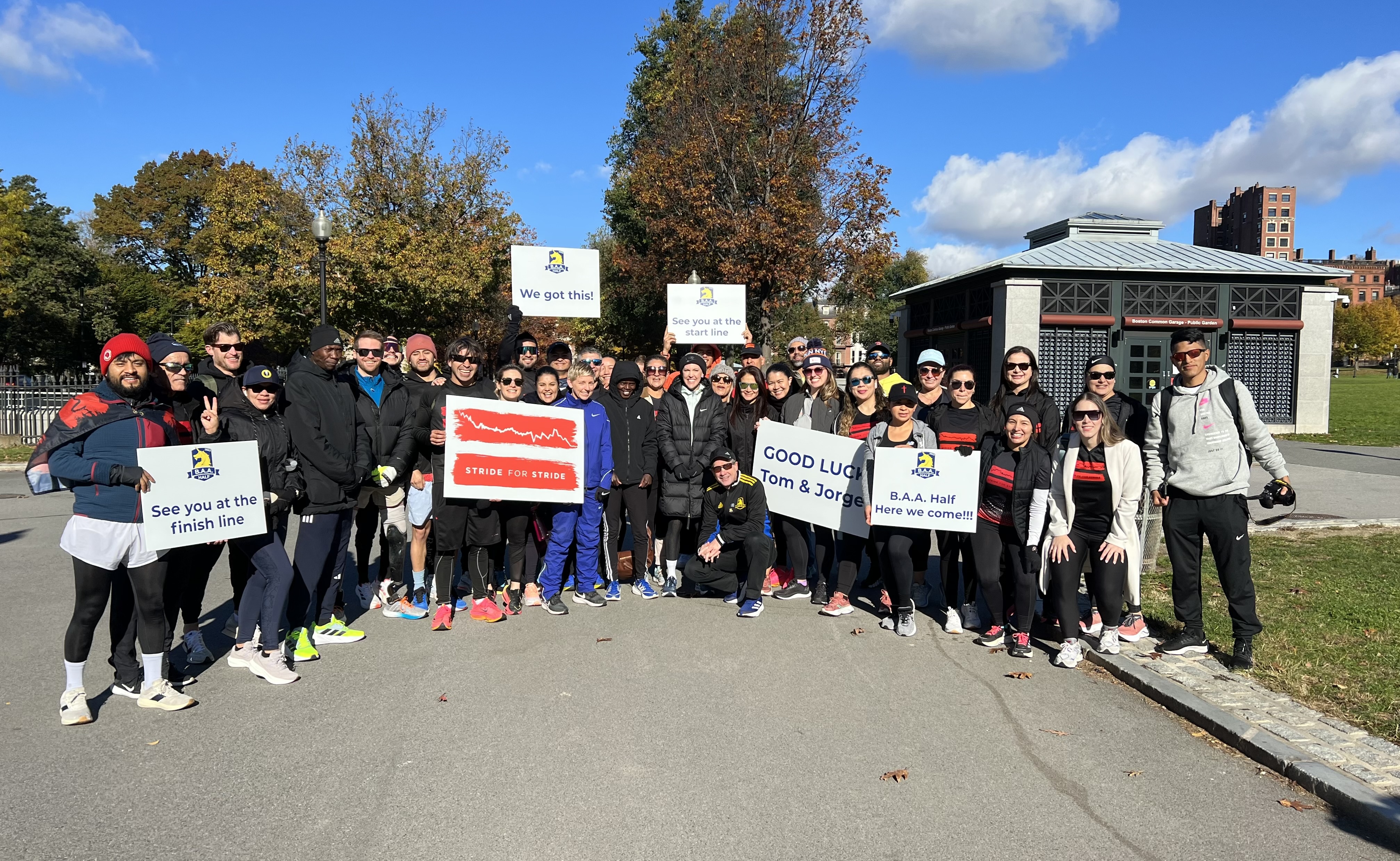 BOSTON – Today, members of the B.A.A. Half Marathon professional field took part in a special meet and greet event with Stride for Stride running club at Boston Common. Defending B.A.A. Half Marathon champions Geoffrey Koech and Viola Chepngeno, Para Athletics Division champions Liz Willis and Brian Reynolds, as well as American half marathon record holder Keira D'Amato and Olympian for Mexico Juan Luis Barrios met with 30 Stride for Stride athletes, sharing words of wisdom ahead of tomorrow's event. The 2023 B.A.A. Half Marathon presented by Dana-Farber Cancer Institute and the Jimmy Fund will be held tomorrow, Sunday, November 12, starting and finishing within Boston's Franklin Park.
Stride for Stride is a non-profit running organization that purchases race entries for immigrant, BIPOC, and low-income runners, making races more accessible and more diverse. Approximately 50 athletes will be running the B.A.A. Half Marathon tomorrow as part of Stride for Stride.
"Just being a part of races, representative at races, feels like they're part of the running community," said Tom O'Keefe, founder of Stride for Stride. "To see others like them and hear about the professional athletes' journey, is validation that they too can get there and be some of the best in the sport. Meeting these athletes gives runners hope and confidence to continue going. It's been very uplifting. I think a few team members will try to compete with them tomorrow!"
"This is why I'm back in running – being part of the community and hearing the many different reasons why people run," said Keira D'Amato, who'll run her first B.A.A. Half Marathon tomorrow. "I feel very connected when I meet other runners, and it's nice to see the common bond. I draw inspiration from them, and I think hearing what they've overcome in their life is incredible."
"Not having grown up in the running world, mostly looking at it from the outside, I've always drawn inspiration from listening to people with a lot of experience in running. Being able to return this to the community is part of why I'm in the running world and I absolutely love it," said Brian Reynolds, who noted he'll draw energy from Stride for Stride athletes on the course as he aims to break his Para Athletics Division world record from last year. "I absolutely love races, and I absolutely love to wave to people that I know along the course [like Stride for Stride runners]. This type of community and group is what makes the running community so amazing. I'm excited to see everybody out on the course and I hope I can wave to some of them tomorrow."
Members of the professional field posed for pictures, conversed with runners, and signed autographs before runners took off for a pre-race run.
ABOUT THE B.A.A. HALF MARATHON
The B.A.A. Half Marathon is the final event in the 2023 B.A.A. Distance Medley, a three-race series providing athletes a year-long way to experience training and racing at three different distances. A total of 9,000 athletes from Greater Boston and beyond will take to the roads of Boston and Brookline tomorrow in pursuit of the coveted unicorn finisher's medal.
Dana-Farber Cancer Institute and the Jimmy Fund have partnered with the B.A.A. Half Marathon since 2003 as the race's presenting sponsor and exclusive charity team. Through this relationship, Dana-Farber runners have collectively raised more than $8.6 million to support groundbreaking cancer research at Dana-Farber Cancer Institute, and enabled Dana-Farber scientists and clinicians to positively impact the lives of cancer patients around the world. A team of 600+ athletes will be part of the Dana-Farber Cancer Institute and the Jimmy Fund's team for this year's event, having already raised over $672,000 to defy cancer. Those interested in supporting Dana-Farber's team can make a donation here.
The B.A.A. is committed to a world where all people can access and benefit from running and an active lifestyle.
ABOUT THE BOSTON ATHLETIC ASSOCIATION
Established in 1887, the Boston Athletic Association is a non-profit organization with a mission of promoting a healthy lifestyle through sports, especially running. The B.A.A. manages the Boston Marathon, and supports comprehensive charity, youth, and year-round programming. The Boston Marathon is part of the Abbott World Marathon Majors, along with international marathons in Tokyo, London, Berlin, Chicago, and New York City. The 128th Boston Marathon presented by Bank of America is scheduled to take place on Monday, April 15, 2024. For more information on the B.A.A., please visit www.baa.org.
About Dana-Farber Cancer Institute  
Dana-Farber Cancer Institute is one of the world's leading centers of cancer research and treatment. Dana-Farber's mission is to reduce the burden of cancer through scientific inquiry, clinical care, education, community engagement, and advocacy. Dana-Farber is a federally designated Comprehensive Cancer Center and a teaching affiliate of Harvard Medical School.  
We provide the latest treatments in cancer for adults through Dana-Farber Brigham Cancer Center and for children through Dana-Farber/Boston Children's Cancer and Blood Disorders Center. Dana-Farber is the only hospital nationwide with a top 5 U.S. News & World Report Best Cancer Hospital ranking in both adult and pediatric care.  
As a global leader in oncology, Dana-Farber is dedicated to a unique and equal balance between cancer research and care, translating the results of discovery into new treatments for patients locally and around the world, offering more than 1,100 clinical trials. 
About the Jimmy Fund 
The Jimmy Fund, celebrating its 75th anniversary in 2023, is comprised of community-based fundraising events and other programs that, solely and directly, benefit Dana-Farber Cancer Institute's lifesaving mission to provide compassionate patient care and groundbreaking cancer research for children and adults.  The Jimmy Fund is an official charity of the Boston Red Sox, the Massachusetts Chiefs of Police Association, the Pan-Mass Challenge, and the Variety Children's Charity of New England. Since 1948, the generosity of millions of people has helped the Jimmy Fund save countless lives and reduce the burden of cancer for patients and families worldwide. Follow the Jimmy Fund on Facebook, Twitter, and Instagram: @TheJimmyFund.