Dana-Farber Cancer Institute
Presenting Sponsor of the B.A.A. Half Marathon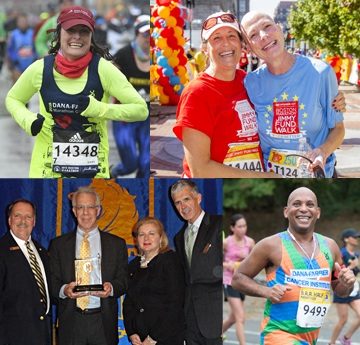 Dana-Farber Cancer Institute provides expert, compassionate care to children and adults and is home to groundbreaking cancer discoveries. The Jimmy Fund solely supports the fight against cancer in children and adults at Dana-Farber. The B.A.A. partnered with Dana-Farber in 1989 to incorporate fundraising initiatives into B.A.A. programming. Since this unique partnership's origin more than a quarter-century ago, participants in Dana-Farber's B.A.A.-related events have raised more than $227 million for Dana-Farber and the Jimmy Fund.
Dana-Farber was among the first organizations accepted by the B.A.A. into its Boston Marathon Official Charity Program in 1990. The Dana-Farber Marathon Challenge (DFMC) team directs 100 percent of funds raised to Dana-Farber's Claudia Adams Barr Program in Innovative Basic Cancer Research, which enables leading researchers to achieve increased cure rates and to enhance patients' quality of life. In 2012, the B.A.A. was the recipient of Dana-Farber's prestigious Sidney Farber Medical Research Award, given to those who have made an exceptional contribution to reduce the burden of cancer on society.
To learn more about running for Dana-Farber and the Jimmy Fund, visit www.RunDanaFarber.org.